Discussion
Most likely upsets in the Southwest
The Southwest offers the most top upset possibilities, according to the formula
Updated:
March 15, 2011, 9:31 PM ET
By
Peter Keating & Jordan Brenner
| ESPN Insider
In our Giant Killers tour of the NCAA tournament regions -- which previously included the East, West and Southeast regions -- we've run into some really good upset opportunities. But with the last bracket in our region-by-region look at upsets predicted by our Giant Killers statistical analysis, we may have the best chance of all for a Goliath-slayer.
(Note: Numbers in parentheses represent a team's Giant Killer score. The higher the number for underdogs, the more likely they can pull the upset. The higher the number for favorites, the more likely they are to fall. For a deeper explanation, click here.)
SOUTHEAST REGION
Best Bets
No. 12 Richmond (31.2 Giant Killer score, on a 100-point scale) vs. No. 5 Vanderbilt (75.9 Vulnerability score)

To see the top upset picks in the Southwest Region, you must be an ESPN Insider. Sign up today and get access to all of Insider's NCAA tournament content, including projections, historical lessons and more.
Insider
Insider NCAA Tournament Bracket Bundle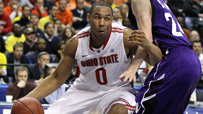 Insider has all of the NCAA tournament angles covered.
Tournament Projections
Access the ultimate tournament game prediction tool to dominate your pool. Bracket Predictor
Team-by-Team Scouting
Joe Lunardi and his team of bracketologists break down all 68 teams. Tourney Tips
Upset Picks
Our deadly-accurate formula projects which Cinderellas will topple favorites. Giant Killers
Expert Advice
ESPN's college hoops analysts weigh in throughout March. Experts Blog | Bilas Blog
John Gasaway
Basketball Prospectus author John Gasaway analyzes the 2011 dance.
Players To Watch
Chad Ford scouts NBA prospects in each region.
Resources
MORE MEN'S COLLEGE BASKETBALL HEADLINES