Discussion
Bracket Predictor: Final Four picks
Insider's devoted man and machine tandem project the NCAA semifinals
Updated:
March 23, 2011, 1:41 PM ET
By
Chris Sprow
| ESPN Insider
An annual tradition, we're again walking through the brackets with Bracket Predictor. We take full responsibility, however, for interpreting his endorsements. While the predictions are the stone-cold serious work of our Insider's robo-prognosticator, we decided to dress up the answers with a little human warmth.
In the last season of "Mad Men," when the agency loses the Lucky Strike account, Don Draper fights smoke with fire, and places an ad in The New York Times stating that the agency will no longer do tobacco advertising. Cunning. Of course, when the American Cancer Society takes notice and discusses their own ad campaign with the firm, a member of their board admits, they don't want to be too pushy with the message -- after all, most of them still smoke.
The parallels exist as we took Bracket Predictor into the Sweet 16. Even when we had the right message, our weak, human instincts sometimes took over. For instance, Predictor showed that Pittsburgh is clearly the "most vulnerable No. 1 seed." Exact words we wrote. But we only wrote it -- we should have believed. And while we picked Michigan over Tennessee, we picked a tight one while Predictor correctly foresaw a drubbing. There were others. And yet, much of the message survived. Consider the results …
• Our picks are better than about 92-93 percent of current ESPN Tournament Challenge brackets.
• We have our four likeliest champions still remaining.
• Nobody -- NOBODY -- saw VCU coming. Not even headline writers dying to write "Shaka Can!" Still, if you used BP in the round of 64, you came out ahead.
Some highlights: We didn't fall prey to Belmont-over-Wisconsin chatter. We picked Florida State over A&M, Richmond over Vandy, Marquette over Xavier and wrote, "North Carolina [is] in serious danger when it battles Washington" -- even in Charlotte -- but will survive. The Heels were, and they did.
So, as we endeavor to live the message we're preaching, let's go through the Sweet 16 and peg a Final Four.
Sweet 16 Picks
To see the Final Four picks, including some surprises, sign up today. You'll also get access to all of Insider's NCAA Tournament content, including projections, upset picks and more.
Insider
Insider NCAA Tournament Bracket Bundle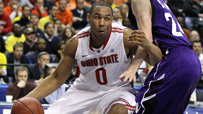 Insider has all of the NCAA tournament angles covered.
Tournament Projections
Access the ultimate tournament game prediction tool to dominate your pool. Bracket Predictor
Team-by-Team Scouting
Joe Lunardi and his team of bracketologists break down all 68 teams. Tourney Tips
Upset Picks
Our deadly-accurate formula projects which Cinderellas will topple favorites. Giant Killers
Expert Advice
ESPN's college hoops analysts weigh in throughout March. Experts Blog | Bilas Blog
John Gasaway
Basketball Prospectus author John Gasaway analyzes the 2011 dance.
Players To Watch
Chad Ford scouts NBA prospects in each region.
Resources
MORE MEN'S COLLEGE BASKETBALL HEADLINES