Discussion
Latin American Confidential
ESPN The Mag posed questions to 100 foreign-born Latin American ballplayers. Here's what they had to say.
This story appears in the April 4, 2011 issue of ESPN The Magazine.
WHICH CURRENT LATINO PLAYER DO YOU ADMIRE THE MOST? Opposing players love Albert Pujols about as much as Cardinals fans do. With 34.5 percent of the vote, he easily outdistances runner-up Omar Vizquel (12.8 percent). Although colleagues marvel at Pujols' talent, many pick him because he grinds like a utility infielder. "He's the best hitter I've ever seen," says a multiple-time All-Star, "but he's responsible ...

Read full story
ESPN The Magazine: April 4, 2011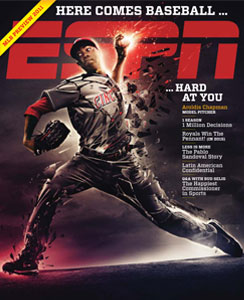 Check out ESPN The Magazine's April 4, 2011 issue below.
MLB Preview
Go/Play