Discussion
Versatility is Pedersen's calling card
STANFORD, Calif. -- Did you ever face one of those miserable-weather days in the winter when you were chilled to the bone? And maybe you thought to yourself, "Why do I live here? I'm moving somewhere warm."
Of course, many people think that … but don't actually do it, right? But Gary and Kelli Pedersen, then living in Flint, Mich., felt that way once and decided to do something about it.
"We had an ice storm, and I couldn't get either car out of the ...

Read full story
NCAA WOMEN'S TOURNAMENT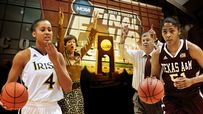 CHAMPIONSHIP GAME
FINAL FOUR
VIDEO
HOW WE GOT HERE
TOURNEY TOOLS
MORE WOMEN'S BASKETBALL HEADLINES