Discussion
Josh Harrellson key to UK-UNC game
Pace of play and Tar Heels' size could cause problems for the Wildcats
Updated:
March 26, 2011, 3:32 PM ET
By
John Gasaway
| Basketball Prospectus
Remember awhile back when everyone was fretting about the Kentucky Wildcats, and the fact that they kept losing close games on the road? Observers looked at the Wildcats' 2-6 record in SEC road games and said that coach John Calipari's team was unlikely to make it very far in the NCAA tournament. Teams that can't win away from home, the thinking went, certainly can't win away from home in the NCAA tournament.
That is indeed customarily the case, but clearly Kentucky in 2011 represents an exception to that tendency. The Wildcats and their ugly 2-6 conference road record are one game away from the Final Four after a thrilling 62-60 win over No. 1 overall seed Ohio State on Friday night. How has UK won six games in a row -- counting SEC tournament games -- outside of Rupp Arena? And, looking ahead, what are the Cats' chances against a very good North Carolina Tar Heels team in the Elite Eight?
Here are one observer's thoughts:
It's not that surprising that Kentucky has made it this far
Obviously, the team that wins a given game was better than its opponent on that particular night. But teams that lose games can still be very good teams -- especially if they're losing those games on the opponent's home floor. Kentucky emerged from the SEC regular season with a good, but by no means great, 10-6 record -- but that tally was a little misleading. The Wildcats were actually 0.12 points better than their SEC opponents on each possession they played, a scoring margin that compares favorably with the margins posted last year by the Michigan State Spartans and West Virginia Mountaineers on their way to the 2010 Final Four. A bounce here or a tip-in there and Kentucky's 10-6 record could easily have been 12-4 -- or even better. In that event, we'd be somewhat less surprised to find this team in the Elite Eight, but their overall performance really wouldn't be significantly different.
To read more about Kentucky's chances against North Carolina, and the ways Josh Harrellson will have an impact on the game, you must be an ESPN Insider.
Insider
Insider NCAA Tournament Bracket Bundle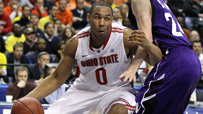 Insider has all of the NCAA tournament angles covered.
Tournament Projections
Access the ultimate tournament game prediction tool to dominate your pool. Bracket Predictor
Team-by-Team Scouting
Joe Lunardi and his team of bracketologists break down all 68 teams. Tourney Tips
Upset Picks
Our deadly-accurate formula projects which Cinderellas will topple favorites. Giant Killers
Expert Advice
ESPN's college hoops analysts weigh in throughout March. Experts Blog | Bilas Blog
John Gasaway
Basketball Prospectus author John Gasaway analyzes the 2011 dance.
Players To Watch
Chad Ford scouts NBA prospects in each region.
Resources
MORE MEN'S COLLEGE BASKETBALL HEADLINES