Discussion
Can Red Sox join century club?
One-hundred wins has been a tough milestone for Boston, but this team could do it
Editor's note: This is the first in a weeklong series previewing the 2011 Red Sox season.
Anything short of a spot in the World Series would have to be considered a disappointment for the 2011 Boston Red Sox.
That's the primary goal following the most productive offseason in franchise history. But there's another opportunity for this squad to secure a spot in the record books: posting 100 wins.
At least, that's a goal set by a pitcher who will have a significant say ...

Read full story
RED SOX SEASON PREVIEW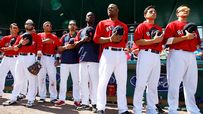 PREVIEW STORIES/SCHEDULE
RED SOX PREDICTIONS
VIDEO/AUDIO
BEST OF SPRING TRAINING COVERAGE