Discussion
Kemba Walker back at No. 1
Updated:
April 5, 2011, 1:00 AM ET
ESPN
Another week, another dose of cross-sport domination from the college kids. With their super elite (and sweet) March Madness performances, Kemba Walker, Jamie Skeen, Shelvin Mack, Brittney Griner and Brandon Knight all shot up to the top of our rankings this week. But did the panel get the order right? Were Walker's numbers really that great? And did Kobe Bryant deserve a higher ranking with his 42-point performance in triple-OT against the Suns?
Let us know your thoughts in the comments ...

Read full story
CROSS-SPORT POWER RANKINGS 2011

Cross-Sport Power Rankings compares the best athletes across all professional sports. Check out the rest of our individual sport power rankings.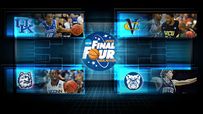 The road has led us to Houston. Who takes home the prized hardware?
Tournament home » Bracket » Challenge »
COLUMNS AND FEATURES
HOW WE GOT HERE
SPECIAL SECTIONS
VIDEO