Discussion
Grading on a curve
Every draft offers value for those who understand the game within the game
Updated:
April 7, 2011, 12:57 PM ET
By
Peter Keating
| ESPN The Magazine
When we watch a just-drafted athlete hug his mom, put on a goofy cap and smile for the camera in anticipation of a multimillion-dollar contract, it's natural to wonder how he could possibly be worth all that money before ever playing a minute in a pro game.
To read more about why the No. 1 pick in the NFL does not provide nearly as much value as the No. 1 pick in other sports, you must be an ESPN Insider.
Insider
ESPN The Magazine: April 18, 2011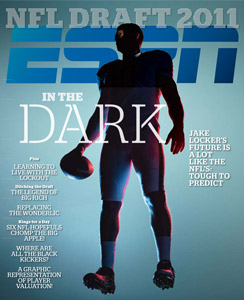 Check out what's in ESPN The Magazine's NFL Draft 2011 issue!
Features
Columns & Go/Play