Discussion
Rangers can't sit still
Texas' front office could have stood pat after its first pennant, so how come it didn't?
Updated:
April 8, 2011, 9:34 AM ET
By
Jeff Bradley
| ESPN The Magazine
The popgun sound of 20 games of catch echoes as usual around the Rangers' complex. It's one week before Opening Day, and if you're looking for symbolism in the most routine of exercises, you can't help but notice one partnership that represents the team's off-season: Michael Young, wearing a first baseman's glove, throwing to Adrian Beltre, his replacement at third base.
To see why the Rangers decided not to sit still this winter, you must be an ESPN Insider.
Insider
ESPN The Magazine: April 18, 2011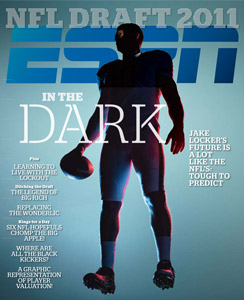 Check out what's in ESPN The Magazine's NFL Draft 2011 issue!
Features
Columns & Go/Play