Discussion
Manny Ramirez's final bow
Twice-busted slugger retires with 555 career homers and a tainted legacy
Updated:
April 8, 2011, 9:48 PM ET
By
Jayson Stark
| ESPN.com
We all know what Manny Ramirez's legacy should have been.
One of the greatest right-handed hitters who ever lived. … MVP of the universe-altering World Series in which the 2004 Boston Red Sox slayed The Curse. … Hall of Famer.
OK, well, so much for that.
Now Manny will head off into the horizon to spend the rest of his life on Planet Manny with a whole different legacy:
The only knucklehead ever to get caught twice by baseball's PED police force.
...
Read full story
MANNY RAMIREZ RETIRES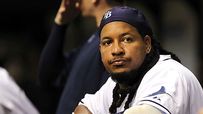 STORIES
VIDEO
SPORTSNATION
PHOTO GALLERY