Discussion
The NFL's vulnerable elite
We know some will, so which division winners from 2010 could stumble in 2011?
Updated:
April 11, 2011, 2:21 PM ET
By
Mel Kiper
| ESPN.com
Every week Mel Kiper writes about the NFL through the prism of the NFL draft.
Every year the NFL proves to be a league in which you can turn things around quickly, or see the work of a previous season look fraudulent. The pace at which the elite teams seem to turn over is remarkable. Consider:
• In the NFC, all four division winners in 2009 failed to win again in 2010. Only Philly, which tied for the NFC East lead in 2009, again tied for it in 2010.
• In the AFC, just two of four teams to win in 2009 did so again in 2010, predictably the Colts and Patriots.
As much as it sounds like an unfair negative prognosis, it's worth taking a look at the problems of these teams, and where every division winner from 2010 is vulnerable in 2011. I'll also tack on an attempt at a grade of just how vulnerable they look.
NFC
Philadelphia Eagles (tie)
The Eagles are loaded with great skill position players, but the offensive line is a real concern. It's not pointed out enough that Michael Vick wasn't just successful because of the way he fit the offense, the offense was successful because Vick's ability to escape concealed the problems on the offensive line. You can understand why Andy Reid wants to keep Kevin Kolb. You need insurance when your O-line performs like Philly's did in 2010. The Eagles also need a corner, which is a really underrated need based on what I'm seeing. There's a lot of talent on this team, but some key areas to address.
Vulnerability scale: Moderate
For the rest of the division winners that may be vulnerable, you must be an ESPN Insider.
Insider
The 2011 NFL Draft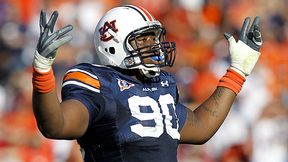 Scouts Inc. and Mel Kiper have Nick Fairley and all the top prospects covered from every angle as the pre-draft process unfolds.
Draft Tracker
|
Kiper Home
|
Draft Blog
Mel Kiper
Todd McShay's projections
Scouts Inc.'s draft coverage