Discussion
Will Marian Gaborik find his 'moment'?
WASHINGTON -- There are no shadows in the Stanley Cup playoffs.
There are no places for anyone to hide on a stage that is perpetually lit by the white-hot light of expectation and "all or nothing."
In that environment, all is laid bare, whether a player blossoms under the pressure or shrivels and is consumed by it.
It is perhaps unfair to be making judgments on a player's ability to thrive in the playoff atmosphere after one game, but no one said the ...

Read full story
2011 STANLEY CUP PLAYOFFS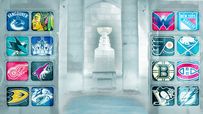 Follow the NHL on ESPN: Twitter / Facebook
EASTERN CONFERENCE
No. 1 Washington vs. No. 8 N.Y. Rangers
No. 2 Philadelphia vs. No. 7 Buffalo
No. 3 Boston vs. No. 6 Montreal
No. 4 Pittsburgh vs. No. 5 Tampa Bay
WESTERN CONFERENCE
No. 1 Vancouver vs. No. 8 Blackhawks
No. 2 San Jose vs. No. 7 Los Angeles
No. 3 Detroit vs. No. 6 Phoenix
No. 4 Anaheim vs. No. 5 Nashville
FIRST ROUND