Discussion
"Uh-oh, I'm rich ..."
Coming into money changes people, not to mention the people around them
Updated:
April 20, 2011, 10:46 AM ET
ESPN The Magazine
This story appears in the May 2 issue of ESPN The Magazine.
ESPN The Magazine asked athletes to share some stories of how they've been approached by outsiders since they come into some serious cash. Simply put, big bank accounts also carry some unforseen baggage.
Heath Bell - San Diego Padres
"I don't have as much trouble with gold-digging women as other guys do, but that's because I'm married and don't have a rock-hard body. It's always funny when women ...

Read full story
ESPN The Magazine: May 2, 2011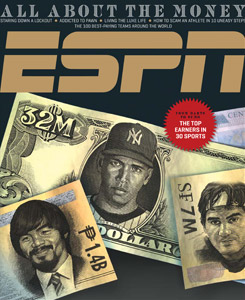 Check out what's in ESPN The Magazine's "All About the Money" issue!
Features
Columns & Go/Play