Discussion
Plenty of options across the board
Domino effect will be felt from the top overall pick down to No. 32
Originally Published:
April 20, 2011
By
Todd McShay
| Scouts Inc.
The 2011 NFL draft is just over a week away and all kinds of rumors, buzz and innuendo are swirling around players and teams up and down the board.
That means it's time for my annual scenario-based mock draft, which includes backup plans for all 32 picks. The first scenario will explain the player each team was given as the board unfolded, with the second and third breaking down further options in terms of prospects and possible trades.
Here's how I see things shaking down at this point and how each team could be affected by decisions made in the spots ahead of it.

Record: 2-14 | Needs: QB, DT, CB, WR, DE

Scenario 1: The information I'm hearing about this pick is not changing, so for now I'm working with the assumption that Newton is the pick.
Scenario 2: Address a pressing need at defensive tackle with Alabama's Marcell Dareus, who I believe is the best player in this class.
Scenario 3: Go with Missouri's Blaine Gabbert -- who I rate 10 spots higher than Newton -- at quarterback. Note: I'm hearing things about LSU CB Patrick Peterson and Georgia WR A.J. Green, but based on positional value, it's hard to believe the Panthers would go in either of those directions.

Record: 4-12 | Needs: DT, MLB, DE, TE, S

Scenario 1: Dareus remains the likely choice here. There is no better match between need and value in the first round.
Scenario 2: If Dareus is gone, Texas A&M OLB Von Miller is the pick for a team looking to upgrade on defense.
Scenario 3: Taking a quarterback is the wild card here. Vice president of football operations John Elway has given no indication he's in love with either of the top two signal-callers, but we continue to hear the organization does not believe 2010 first-rounder Tim Tebow is the long-term answer.

Record: 4-12 | Needs: QB, OLB, LOT, DE, TE

Scenario 1: Miller is the premier pass-rusher in this class and fits perfectly at outside linebacker in Buffalo's 3-4 defense. This is the smart pick, but still a tough pill to swallow given the lack of production the Bills have gotten from 2009 first-rounder Aaron Maybin.
Scenario 2: Use this pick on one of the quarterbacks, likely Newton if he's on the board.
Scenario 3: The only other player I'm hearing even whispers about is Peterson.

Record: 4-12 | Needs: QB, WR, CB, SS, DT/p>

Scenario 1: There are reports that the Bengals think Alabama's Julio Jones is a better fit in their version of the West Coast offense, but I think Green is on another level in terms of explosiveness and ball skills.
Scenario 2: Take Jones if he truly is the better player for their system.
Scenario 3: There are conflicting rumors about whether the Bengals are ready to move on from the Carson Palmer era and I've heard offensive coordinator Jay Gruden likes both Newton and Gabbert, so quarterback is not out of the question. I'm also hearing they are high on TCU's Andy Dalton, so keep an eye out for a trade back into the late first round.

Record: 5-11 | Needs: QB, OLB, OT/OG, TE, CB

Scenario 1: The Cardinals need an upgrade at quarterback, and while I've been told they are not that crazy about Gabbert or Newton, my gut feeling is that they will take the QB who's available.
Scenario 2: If it's not a quarterback, then the pass rush becomes a priority, and North Carolina DE/OLB Quinn becomes the pick.
Scenario 3: Peterson does not fill a pressing need but would be a value pick even at this spot.
How will the top five affect the remainder of the top 10? Which spots are ripe for trade possibilities and which teams could very well see their dream scenarios unfold? Todd McShay has all the answers for ESPN Insiders.

Insider
The 2011 NFL Draft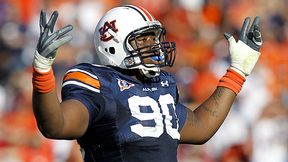 Scouts Inc. and Mel Kiper have Nick Fairley and all the top prospects covered from every angle as the pre-draft process unfolds.
Draft Tracker
|
Kiper Home
|
Draft Blog
Mel Kiper
Todd McShay's projections
Scouts Inc.'s draft coverage