Discussion
Addicted to pawn
When athletes can't keep up with their luxe lifestyle, they know where to go for a loan
Updated:
April 22, 2011, 11:24 AM ET
By
Shaun Assael
| ESPN The Magazine
This story appears in the May 2, 2011 issue of ESPN The Magazine.
BROCK WILLIAMS ISN'T HAPPY to hear from me.
I've tracked down the obscure former Patriots cornerback to ask about the Super Bowl XXXVI ring he pawned a decade ago for $2,600. "Ah, man, that was a bad time," he says over the phone, letting the space between his words linger. "I'm just trying to put that all behind me."
Unfortunately for Williams, that's hard to do when America sees ...

Read full story
ESPN The Magazine: May 2, 2011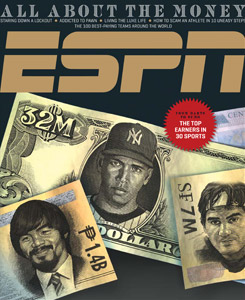 Check out what's in ESPN The Magazine's "All About the Money" issue!
Features
Columns & Go/Play