Discussion
Agitator Brad Marchand gets B's going
Updated:
June 15, 2011, 10:10 AM ET
By
James Murphy
| ESPNBoston.com
VANCOUVER, British Columbia -- Midway through the 2010-11 season, the word around the NHL was that No. 63 on the Boston Bruins needed to be taught a lesson for his after-the-whistle antics and questionable hits.
On Jan. 1, Brad Marchand (No. 63) had scored just six goals, and coach Claude Julien pulled him aside to remind him of a promise he had made to the coach in his 2009-10 exit meeting, that he would score 20 goals this season.
"I wasn't sure I believed he was going to ...

Read full story
CUP IS OURS: BRUINS BEAT CANUCKS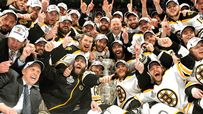 Full coverage of the Bruins' Stanley Cup victory
Stanley Cup finals | Bruins blog
VICTORY PARADE
THE AFTERMATH
GAME 7: BRUINS 4, CANUCKS 0
GAME 6: BRUINS 5, CANUCKS 2
GAME 5: CANUCKS 1, BRUINS 0
GAME 4: BRUINS 4, CANUCKS 0
GAME 3: BRUINS 8, CANUCKS 1
GAME 2: CANUCKS 3, BRUINS 2 (OT)
GAME 1: CANUCKS 1, BRUINS 0
RESULTS, SCHEDULE