Discussion
Futures Game Live
Updated:
July 10, 2011, 4:34 PM ET
ESPN.com
Starting at 5 p.m. ET, ESPN.com will be live from Chase Field in Phoenix, where the All-Star festivities begin with the XM All-Star Futures Game.
Join ESPN's crew of analysts in Phoenix, including Keith Law, Jim Bowden, Jason Grey, Jason Churchill and others, as they discuss the game's top prospects. The Futures Game begins at 6 p.m. ET on ESPN2 and ESPN3.com.
Futures Game Live
Read full story
XM ALL-STAR FUTURES GAME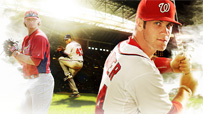 Rosters: U.S. Team | World Team
CONTENT