Discussion
Grand prize
Whith two teams digging in their heels, Carl Edwards is the coveted free agent in this year's Silly Season.
Updated:
July 27, 2011, 10:25 AM ET
By
Ryan McGee
| ESPN The Magazine
This story appears in the Aug. 8, 2011 issue of ESPN The Magazine.
EVERY FRIDAY BEFORE HIS RACE weekend begins, Carl Edwards meets with a horde of reporters, takes a deep breath and braces himself. "Okay," the Roush Fenway star says with a sigh, just a day before winning the June 18 NNS race at Michigan. "Let's get the 'Where are you going next year?' questions out of the way."
Welcome to another NASCAR Silly Season, the annual exhibition of musical chairs that ...

Read full story
ESPN The Magazine: August 8, 2011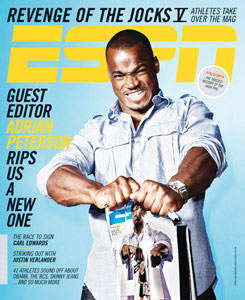 Features