Discussion
Pass the mic
These jocks have some things to get off their chests.
Updated:
July 27, 2011, 3:14 PM ET
ESPN The Magazine
This story appears in the Aug. 8, 2011 issue of ESPN The Magazine.
JOHN WALL, WIZARDS "Find out who your real friends are. Sometimes it seems like the person you're hanging with is the right person to be around, and then all of a sudden he might change or betray you. It can be tough, but find the right people."
CANDICE WIGGINS, MINNESOTA LYNX "I wish more people would respect the women's game as its own entity and not be so quick to pit us against the NBA. Maybe ...

Read full story
ESPN The Magazine: August 8, 2011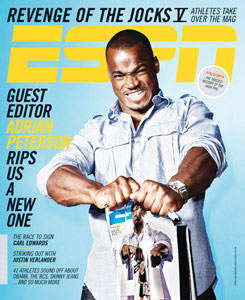 Features