Discussion
The dog in the room
A lot of people will never forgive Michael Vick. A lot of people wonder why, too.
Updated:
August 25, 2011, 2:19 PM ET
By
David Fleming
| ESPN The Magazine
This story appears in the Sept. 5 issue of ESPN The Magazine.
BEFORE DAWN ON JUNE 19, barricades lined the sides of Main Street in Butler, N.J. Michael Vick was on the way. Three dozen officers, plastic handcuffs at the ready, were preparing for the Eagles quarterback's appearance at a local sports memorabilia shop.
By noon, more than 300 fans, thrilled to pay $90 or more for Vick's autograph, crowded the north side of the street. On the south side, past the ...

Read full story
ESPN The Magazine: September 5, 2011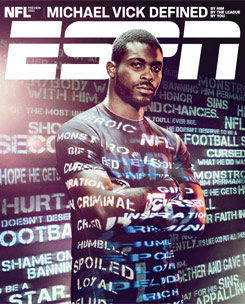 FEATURES IN THE "VICK" ISSUE
MORE FROM THE ISSUE