Discussion
Trying times for Tennessee Volunteers
Phillip Fulmer needed a few moments to compose himself.
"I'm struggling here," the former University of Tennessee football coach said in a phone interview.
Fulmer was trying to find the right words to describe his friend Pat Summitt, who Tuesday made public her ongoing battle with early-onset dementia, a precursor to Alzheimer's disease. He struggled because his own mother suffers from Alzheimer's, so he knows exactly how the disease can slowly erode a person ...

Read full story
COACHING WITH DEMENTIA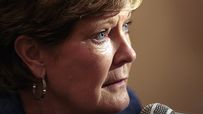 In August, Tennessee coach Pat Summitt, 59, revealed that she has been diagnosed with early-onset dementia, Alzheimer's type.
COMMENTARY
NEWS
VIDEO
ARCHIVES