Discussion
Fear and Pat Summitt's announcement
Updated:
August 26, 2011, 1:49 PM ET
By
Jemele Hill
| ESPN.com
Late in her life, I saw my grandmother transform from a crossword-puzzle-loving, "Law-and-Order"-watching, active woman to someone who couldn't take care of herself. And in the final months of her life, she was unable to speak and could only show that she recognized me by reaching helplessly for my hand.
It is devastating to see someone you love wither. My grandmother survived one stroke, but she suffered a second one in February 2010 and died a few months later.
I ...

Read full story
COACHING WITH DEMENTIA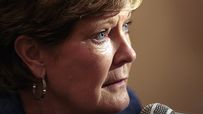 In August, Tennessee coach Pat Summitt, 59, revealed that she has been diagnosed with early-onset dementia, Alzheimer's type.
COMMENTARY
NEWS
VIDEO
ARCHIVES