Discussion
ESPN HS kickoff previews
A quick look the 13 games airing on ESPN's networks Friday, Saturday and Sunday
Updated:
August 26, 2011, 2:35 PM ET
By
ESPN Recruiting
| ESPN.com
Here is a look at all the games that will be part of ESPN's High School Kickoff that will be airing on ESPN's family of networks.
Friday games
Columbus North vs. Columbus East Two of Indiana's top high school programs meet when the Columbus North Bull Dogs visit the Columbus East Olympians on Friday night (ESPNU, 7 p.m. ET).
Top prospects: Columbus North DE Deonta Dismuke; Columbus East QB Gunner Kiel
Gainesville (Ga.) vs. Buford (Ga.) Two of Georgia's top high school programs ...

Read full story
ESPN HIGH SCHOOL KICKOFF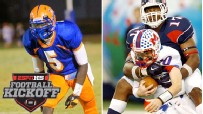 ESPN will be airing 13 games on its family of networks from across the country Friday, Saturday and Sunday.
Friday
• Columbus North vs. Columbus East
(ESPNU, 7 p.m. ET)
• Gainesville (Ga.) vs. Buford (Ga.)
(ESPN3.com, 7 p.m. ET)
• Gaffney (S.C.) vs. Dorman (S.C.)
(ESPN3.com, 7 p.m. ET)
• Armwood (Fla.) vs. Bishop Gorman (Nev.)
(ESPN2, 9 p.m. ET)
Saturday
• St. Thomas Aquinas (Fla.) vs. Prattville (Ala.)
(ESPN, noon ET)
• South Panola (Miss.) vs. Hoover (Ala.)
(ESPN, 3:30 p.m. ET)
• Indy (Ind.) Cath. vs. Indy (Ind.) Warren Cent.
(ESPNU, 4:00 p.m. ET)
• S. Springs (Texas) vs. Denton (Texas) Ryan
(ESPN, 7:00 p.m. ET)
• Springfield (Mo.) Hillcrest vs. Seneca (Mo.)
(ESPNU, 9:00 p.m. ET)
• Pleasant Grove vs. Monterey Trail
(ESPN2, 10:00 p.m. ET)
Sunday
• Coll. Acad. (D.C.) vs. Cincinnati (Ohio) Taft
(ESPNU, 11:00 a.m. ET)
• Glenbard West vs. Warrenville South
(ESPN2, noon ET)
• Cocoa (Fla.) vs. Cincinnati (Ohio) Colerain
(ESPN, 3:00 p.m. ET)
MORE COLLEGE FOOTBALL HEADLINES