Discussion
Armstead bolsters USC's recruiting
Commitment from California's top player despite sanctions speaks volumes
Updated:
September 1, 2011, 6:56 PM ET
By
Erik McKinney
| WeAreSC.com
Editor's note: WeAreSC recruiting editor Erik McKinney will rank the Trojans' commitments from 10 to 1 according to the importance of each to the 2012 roster. Prospect No. 1 is OL/DL Arik Armstead.
The fact a debate regarding which side of the ball
Arik Armstead
is best suited to play is virtually inevitable means absolutely nothing to the USC coaches. The fact Armstead has verbally committed to USC means everything to the Trojans' 2012 recruiting class. The top player in the state of California, Armstead could excel either at offensive tackle or anywhere along the defensive line at the next level. While he undoubtedly would be a huge addition to the roster as an offensive tackle, his desire to prove that he belongs at defensive end should have him motivated to make an early impact in his USC career.
To continue reading this article you must be an Insider
Insider
PROSPECT A DAY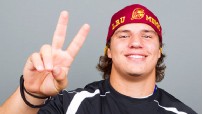 The Trojans have 10 commitments so far in the 2012 class. We Are SC is ranking each of them by importance to next year's overall roster.
No. 1
•
OL/DL Arik Armstead

No. 2
•
OL Max Tuerk

No. 3
•
LB Jabari Ruffin

No. 4
•
LB Scott Starr

No. 5
•
WR Darreus Rogers

No. 6
•
TE Jalen Cope-Fitzpatrick

No. 7
•
RB Kelvin York

No. 8
•
FB Jahleel Pinner

No. 9
•
DE Pio Vatuvei

No. 10
•
WR Jaydon Mickens