Discussion
Is he your ideal (team)mate?
The Mag puts the Seahawks' Mike Williams and Sidney Rice to the test
Updated:
September 28, 2011, 2:50 PM ET
ESPN The Magazine
This story appears in the Oct. 3 issue of ESPN The Magazine.
Both played college ball for a USC. Both have overcome adversity to make it in the NFL. But will the Seahawks' newest wideout, Sidney Rice, mesh with fellow deep threat Mike Williams, who helped propel Seattle to the NFC divisional playoffs last season? We turn to our Compatibility Test for answers.
SCORING: 0-2: They put the split in split ends. 3-5: Destined to share playbacks. 6-8: XO, XO.
WHICH ...

Read full story
ESPN The Magazine: October 3, 2011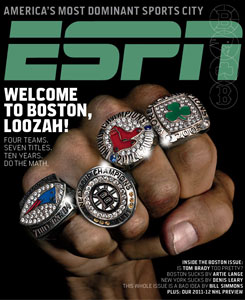 Boston Features
NHL Preview
Columns & Go/Play