Discussion
Top defenseman prospect Murray injured
Updated:
October 20, 2011, 7:54 PM ET
By
Doug McIntyre
The gaggle of NHL scouts who descended on Everett, Wash., on Wednesday to get a firsthand look at Ryan Murray didn't learn much about the Silvertips' blue-chip blueliner, who suffered a high ankle sprain and will be out 4-6 weeks, according to the team's media relations staff.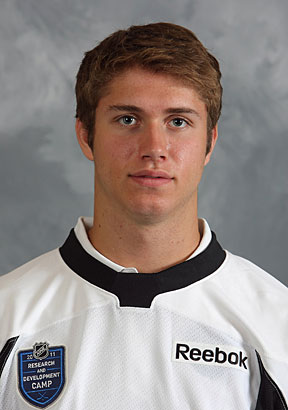 Murray
His injury is reverberating well beyond the Western Hockey League. On Thursday, Murray -- perhaps the best-regarded defenseman in the 2012 draft class -- played just two shifts before leaving his team's 8-2 loss to the Brandon Wheat Kings with an apparent leg injury. According to this report, Murray, who was spotted on crutches after the game, "was crunched hard into the boards, skated straight to the bench, headed directly to the locker room and did not return." Most scouts do not believe the injury will affect his draft status.
Of course, Murray is only one of many elite defensemen honing their craft in "The Dub" this season. Not that that's something new: The WHL has a well-earned reputation for producing top-end D-men. What's interesting this year is that none of very best are the big, bruising types who typically come out of the circuit. In fact, Murray, Mathew Dumba, Morgan Reilly and Derrick Pouliot are all 6-foot or shorter.
To read more on the injury to top talent Ryan Murray, as well as an update on other defenseman prospects, become an ESPN Insider today.
Insider