Discussion
Cult classic
Tim Tebow is an overblown phenomenon, drowning out the buzz for more talented QBs
Updated:
December 6, 2011, 7:10 PM ET
By
Howard Bryant
| ESPN The Magazine
This article appears in ESPN The Magazine's Dec. 12, 2011, "Interview Issue."
THE DREAM OF AMERICA -- a meritocracy -- is the basic draw of sports: your best against mine, the scoreboard oblivious to pedigree, race, class or gender. The promise of pure competition is perhaps the biggest reason we watch.
Except that it's a lie. Merit remains what it has always been: a myth. Pedigree, race, class, gender, politics or something as simple as good looks might not determine ...

Read full story
ESPN The Magazine: December 12, 2011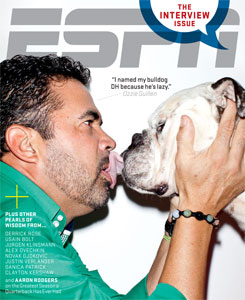 The Interviews
More from the issue