Discussion
NEXT fan favorites
Who did you think was on the verge of changing their sports? Behold: The NEXT voting results.
Updated:
December 28, 2011, 5:02 AM ET
ESPN The Magazine
EACH YEAR we feverishly debate the question "Who's next?" This year we took the party online, hosting voting online at espn.com/next from Dec. 5-18. And while we enjoyed having nearly 300,000 of you join the conversation, for the most part, we'll have to agree to disagree.
WINNER, BASEBALL Bryce Harper, 47 percent
Runners up: Mike Stanton (20 percent); Matt Moore (13 percent); Mike Trout (11 percent); Yu Darvish (9 percent)
"Bryce ...

Read full story
ESPN The Magazine: January 9, 2012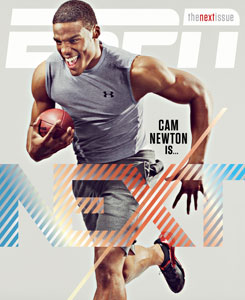 THE MAG'S NEXT ATHLETES

FEATURES

COLUMNS

MORE FROM THE ISSUE