Discussion
What makes a great MLB uniform?
There was a time when I was very traditional in my view of uniforms: home whites and road grays ... and anything resembling those garish Houston Astros rainbow jerseys of the '70s and '80s should be banished to the consignment shops or Terry Puhl's basement.
But you know what? I've come around a little bit. A little color can be a good thing. For example, I love the Oakland A's bright yellow tops, sort of a more modern take on the jerseys you remember Reggie Jackson & Co. wearing ...

Read full story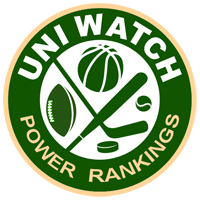 THE RANKINGS
CREATE YOUR OWN RANKINGS
WHAT MAKES A GREAT UNIFORM?