Discussion
What makes a great NBA uniform?
Fifty-five days after a sad-sack roster and its accompanying staff walked off the court in Charlotte, N.C., to end the worst season in NBA history, the Bobcats trotted out their three highest-profile players in a move meant to signify a fresh start.
Positioned in front of a white photographer's backdrop, Kemba Walker, Gerald Henderson and Bismack Biyombo wore uneasy grins and, for the first time, Charlotte's new home and away uniforms for the 2012-13 season. Gone were the pinstripes ...

Read full story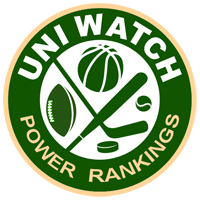 THE RANKINGS
CREATE YOUR OWN RANKINGS
WHAT MAKES A GREAT UNIFORM?