Discussion
What makes a great NHL uniform?
Originally Published:
August 22, 2012
By
Doug McIntyre
| ESPN The Magazine
Simplicity and continuity are staples of the best NHL uniforms, a group dominated -- not surprisingly -- by the league's Original Six clubs.
It's difficult to argue with the iconic looks of the two-color Detroit Red Wings and Toronto Maple Leafs. As far as logos go, the spoked B of the Boston Bruins, the tricolor CH that is ubiquitous in Montreal and the diagonal lettering that instantly identifies the New York Rangers have remained mostly unchanged for decades. The Chicago Blackhawks? ...

Read full story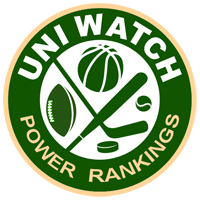 THE RANKINGS
CREATE YOUR OWN RANKINGS
WHAT MAKES A GREAT UNIFORM?