Discussion
Paging doctor time machine
Today's sports medicine could've saved yesterday's injury-shortened careers
Originally Published:
September 21, 2012
By
Larry Smith and Lizzie Haldane
| ESPN The Magazine
FOUR YEARS after suffering a torn rotator cuff that would've ended her career even a decade ago, Maria Sharapova is the world's No. 2 women's tennis player. Her comeback made us wonder: Would today's sports medicine have changed the careers of legends cut down early by injury? So we turned to top sports docs to evaluate four icons, diagnose how they'd be treated today and give us a peek at how future stars will heal.
Bo Jackson, NFL 1987-90, MLB 1986-94
INJURY ...

Read full story
ESPN The Magazine: October 1, 2012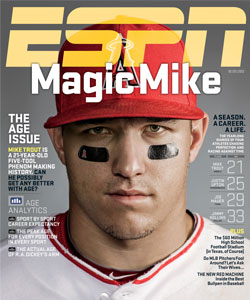 AGE ISSUE FEATURES

COLUMNS

MORE FROM THE AGE ISSUE