Discussion
Notre Dame's big advantage
Originally Published:
December 27, 2012
By
Rick Reilly
| ESPN.com
Louis Nix is scary.
Some nights, he slaps on a "Saw" mask, goes out on the Notre Dame campus, jumps out from behind bushes and scares students. When a 330-pound nose guard leaps out at you, your pancreas tends to leap out of you. One poor girl cried. "I've had campus police called on me," Nix admits.
Which is weird, since Nix loves nothing more than to laugh.
One Halloween, he dressed as Jesus Christ, and as he walked around he'd freeze every 20 feet or so into a Touchdown ...

Read full story
DISCOVER BCS NATIONAL CHAMPIONSHIP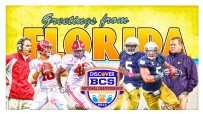 When No. 1 Notre Dame will play No. 2 Alabama for the Discover BCS National Championship, even the December sky is a little more blue-gray. Ivan Maisel | BCS title home
MORE ON ALABAMA-NOTRE DAME
VIDEO