Discussion
Coming down
Auburn struggled to beat a perplexing drug problem during its 2010 BCS title run
Updated:
April 19, 2013, 9:11 AM ET
By
Shaun Assael
| ESPN The Magazine
This is an updated version of a story that first ran on April 4. You can also find it in ESPN The Magazine's April 29 NFL Draft Issue and on the season-premiere of E:60 April 23.
MICHAEL DYER WAVES the smoke out of his eyes and tries to focus on the question: "Can we have your gun?"
On one side of him, an Auburn teammate is nodding off, too sick and tired from his high to stay awake. Another teammate is holding his stomach and retching while his brain burns.
...
Read full story
ESPN The Magazine: April 29, 2013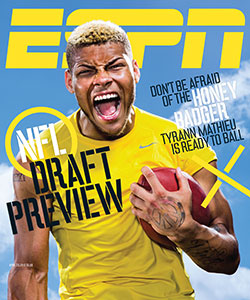 NFL DRAFT FEATURES

COLUMNS

MORE FROM THE NFL DRAFT ISSUE