Discussion
At Merion, smaller may not be better
Originally Published:
June 13, 2013
By
Rick Reilly
| ESPN.com
ARDMORE, Pa. -- Reason No. 317 we all love Merion but won't ever be coming back for another U.S. Open: Thomas Gravina came downstairs Thursday to find a bunch of golf pros eating muffins in his living room.
Because Merion is the size of a casserole dish, the Gravinas' kitchen, living room, dining room and library are now the U.S. Open Player Hospitality Center, which means he can walk in his front door nearly any time of the day and find Tiger Woods, Phil Mickelson or some other ...

Read full story
U.S. OPEN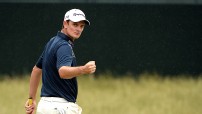 Merion proved to be quite the test for the world's best at the 113th U.S. Open. Justin Rose ultimately triumphed, finishing the tournament with a 2-stroke victory at 1-over.
DAY 4
DAY 3
DAY 2