Discussion
Sunday might never be the same
Originally Published:
June 17, 2013
By
Rick Reilly
| ESPN.com
ARDMORE, Pa. -- It's crazy, but let's say Tiger Woods never wins another major. Let's say he is done at age 37. Let's say he stops at 14, four short of Jack Nicklaus' record.
How will history judge him?
As a colossus, the likes of which golf has never seen? Or as a colossal disappointment? As a brilliant star? Or a star that burned out halfway across the sky? As a great champion? Or a great tragedy?
Do you realize that this Tiger ...

Read full story
U.S. OPEN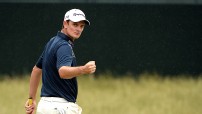 Merion proved to be quite the test for the world's best at the 113th U.S. Open. Justin Rose ultimately triumphed, finishing the tournament with a 2-stroke victory at 1-over.
DAY 4
DAY 3
DAY 2