Discussion
Hernandez faces tough case
First-degree murder charge means prosecution thinks killing planned, deliberate
Former New England Patriots tight end Aaron Hernandez has been charged with first-degree murder and a series of gun violations. The investigation that led to the murder charge and the charge itself raise questions about the evidence against Hernandez, the handgun used in the killing, the possible roles of Hernandez acquaintances and the incarceration of Hernandez without bail:
Q: Why did authorities charge Hernandez with first-degree murder and not with any lesser offense such as second-degree ...

Read full story
THE NFL ON ESPN.COM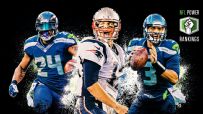 The Patriots are No. 1, but its lackluster Week 16 win allowed the Seahawks to gain support.
ESPN FAN SHOP