Commentary
Don't overlook Wisconsin
Badgers show athleticism, depth in decisive win
Updated:
March 27, 2014, 11:30 PM ET
By
Dick Vitale
| ESPN.com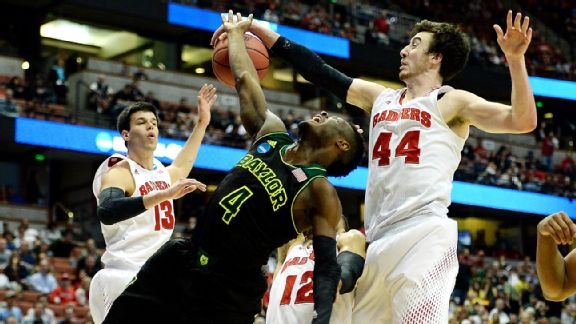 Harry How/Getty ImagesBaylor struggled to score against Wisconsin, netting just 16 points in the first half.
This is the best Wisconsin team that I have seen in the Bo Ryan era.
The Badgers are athletic, talented and deep. Wisconsin showed all of those traits and more in blasting a hot Baylor team in the Sweet 16.
Wisconsin, which rallied from a 12-point halftime deficit against Oregon in the round of 32, came out on fire Thursday. The Badgers hit 14 of 25 shots out of the gate. By the time Baylor knew what hit it, Wisconsin was up 25-11 with less than four minutes left in the half.
Baylor scored only 16 points in the first half, making five field goals while shooting 21 percent, thanks to a combination of Wisconsin's tenacious defense and the Bears' ice cold shooting.
I loved watching the Badgers pass the ball, finding open shooters against the Baylor zone. Frank Kaminsky led Wisconsin with 19 points. Ben Brust showed his outside touch by hitting key 3-pointers, finishing with 14 points. Nigel Hayes showed his athleticism, which is why he is a future star.
Wisconsin is in the Elite Eight for the first time since 2005, when the Badgers lost to North Carolina.
The Big Ten has to be happy as Thursday night ended with three of the conference's members still alive -- Wisconsin, Michigan State and Michigan. The latter two will be tested on Friday.
This Wisconsin team is capable of making the Final Four, and even more. Remember, the Badgers beat No. 1 Florida earlier this season.
College Basketball analyst
Dick Vitale, college basketball's top analyst and ambassador, joined ESPN during the 1979-80 season. His thorough knowledge of the game is brought forth in an enthusiastic, passionate style. Vitale also contributes columns to ESPN.com.

MOST SENT STORIES ON ESPN.COM