Commentary
A cautionary tale
Not every player who left school early had a happy ending on draft night
Updated:
June 30, 2014, 3:34 PM ET
By
Dick Vitale
| ESPN.com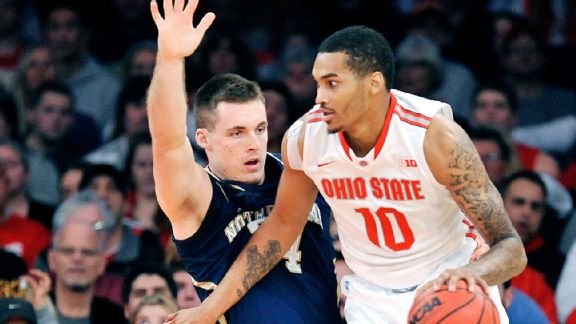 Joe Camporeale/USA TODAY SportsLaQuinton Ross averaged 15.2 PPG at Ohio State last season, but didn't hear his name called.
Now that I have had a few days to digest what happened at the 2014 NBA draft, one theme has been prevalent.
Sure, a lot of people are talking about the one-and-dones again; they dominated the early portion of the first round.
But it is a bit surprising to me to see a number of very good college players -- guys who gave up eligibility to enter the draft -- left in the cold.
Passed Over

North Carolina's James Michael McAdoo is one of nine prominent college underclassmen who entered the NBA draft but did not hear their names called:
• Khem Birch, UNLV
• Jabari Brown, Missouri
• Jahii Carson, Arizona State
• Alex Kirk, New Mexico
• James Michael McAdoo, North Carolina
• Eric Moreland, Oregon State
• LaQuinton Ross, Ohio State *
• Jakarr Sampson, St. John's
• Roscoe Smith, UNLV
* Signed summer league contract with the Lakers.
This happens every year. Kids get bad advice, come out early and then become basketball vagabonds, trying to catch on with one team or another. They could have returned to college and been a BMOC (big man on campus). This year, there are a lot of underclassmen who ended up going to NBA summer league rosters, looking for a job. The guaranteed first-round money was not there for them. They were also passed over in Round 2.
Some of these guys entered the draft because of ego. Some tried because their buddies went on to the NBA, so they wanted to go, too. There is nothing wrong with chasing a dream.
The problem is, players have to make sure they have their facts straight. They have to listen to the right people. If they are misled, they lose out on their college careers and have to work even harder just to find a roster spot. They could end up in Europe or the D-League -- not their original plan when they put their name into the draft.
Who would have believed that James Michael McAdoo, early in his North Carolina career considered a top-10 pick, wouldn't have his name called a few years later? LaQuinton Ross led Ohio State in scoring and rebounding last season. Jabari Brown averaged just under 20 PPG last season at Missouri. Jahii Carson averaged over 18 PPG last season at Arizona State. Roscoe Smith averaged 11 rebounds a game at UNLV, and teammate Khem Birch was among the nation's premier shot-blockers.
These are accomplished college players who could have been stars if they went back for another season on campus.
Those days are over. College basketball lost out, and the players did, too. That was overshadowed on draft night.
These were quality college players who enjoyed the fruits of their labor. Now they have to pick up the pieces and hope they can get lucky and hit a home run. They don't have that degree to fall back on.
I wish them well because many of them are good kids.
College Basketball analyst
Dick Vitale, college basketball's top analyst and ambassador, joined ESPN during the 1979-80 season. His thorough knowledge of the game is brought forth in an enthusiastic, passionate style. Vitale also contributes columns to ESPN.com.

MOST SENT STORIES ON ESPN.COM