Commentary
NBA draft night recap
Updated:
June 29, 2012, 12:20 PM ET
By
Dick Vitale
| ESPN.com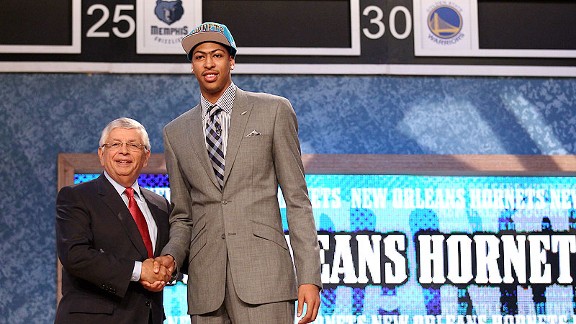 Elsa/Getty ImagesAnthony Davis shakes hands with commissioner David Stern after being drafted No. 1 by the New Orleans Hornets.
Here are some thoughts about Thursday night's action:
Anthony Davis was head-and-shoulders above anyone in this draft. I really liked what New Orleans did by getting Davis and Austin Rivers of Duke with its two top 10 picks. This duo will excite the fans down there. I believe Rivers will be a very good pro because of his aggressive nature. He likes to go to the basket and he will only get better and better.
I understood why Charlotte took Michael Kidd-Gilchrist at No. 2. He is a hard worker and a winner, but it may take him some time to develop because he is an inconsistent scorer. Initially, new coach Mike Dunlap may not get the kind of production expected from a No. 2 overall pick because Kidd-Gilchrist lacks great stroke technique on his shot. He is the consummate teammate and in the long run, he should work out. Kidd-Gilchrist's work ethic and attitude will shine, but he has to make shots at the next level.
Bradley Beal will team up with John Wall to make an exciting backcourt in Washington. Beal can rebound and make shots and he will improve after just one college season.
I was really surprised when Cleveland took Dion Waiters at No. 4. Is he really a No. 2 guard or better suited to the point? How will he mesh with Rookie of the Year Kyrie Irving? I would have liked Harrison Barnes or Thomas Robinson in that slot. I know Cleveland has high hopes for Tristan Thompson, who went fourth in last year's draft. Don't get me wrong, I like Waiters' athletic ability and the fact that he is so explosive. Robinson has the potential to come in and be a 15-point, 10-rebound per game player out of the gate. His physical ability makes him a great choice. Teams that passed on him may have made a mistake. I predict Robinson will be a gem, baby!
I love what Golden State did in this draft. Harrison Barnes will work hard and be a factor on the baseline. Golden State also added a big man in Vanderbilt's Festus Ezeli and a quality, versatile player in Michigan State's Draymond Green in round two. I felt Green would go late in round one, so the Warriors got a good value with the 35th overall selection.
Connecticut center Andre Drummond was worth the risk at pick nine for the Pistons. It is worth taking a shot at a player with that size. Remember, Drummond would have just finished high school if he did not move up his plans and go to the Huskies for last season.
John Henson and Tyler Zeller went a little lower than I expected, and both former Tar Heels should contribute early on.
Orlando made a great move with picking Andrew Nicholson out of St. Bonaventure. I look at him as a potential sleeper in this draft.
It seems like a few guys drop in the first round and people are surprised. Jared Sullinger is a quality young man and the Celtics grabbed him at No. 21. Boston felt comfortable picking him despite reports of back issues, which his camp refuted. Boston also landed a pair of Syracuse players in Fab Melo and Kris Joseph.
Perry Jones III may have landed in the perfect spot, going to Oklahoma City. At No. 28, Jones III has a lot of talent.
I was thrilled to hear Robbie Hummel of Purdue get his name called, going 58th to Minnesota. He has been through so much with injuries, so I hope he gets a chance to play with the Timberwolves.
Congratulations to John Calipari of Kentucky. The Wildcats had four players go in the first round (tied with North Carolina). Then Calipari was pleased when Doron Lamb and Darius Miller went 42nd and 46th, respectively.
A number of underclassmen entered the draft believing they would get guaranteed deals as first rounders. Baylor's Quincy Miller went 38th, Khris Middleton of Texas A&M went 39th and Will Barton of Memphis went 40th. Now they will have to prove themselves without getting a guaranteed contract right away. You sometimes wonder if they would have been better off staying in school.
Then there were some of the underclassmen who did not hear their names called at all. Guys like J'Covan Brown of Texas, Georgetown's Hollis Thompson, and Villanova's duo of Maalik Wayns and Dominic Cheek had to be disappointed that they gave up their eligibility.
The later stages of the draft saw a number of foreign players chosen. A lot of college players did not get a chance as several pro teams preferred to take guys they won't see for a while.
I was truly shocked that nobody took Iona guard Scott Machado. I believe he has a ton of potential as an outstanding point guard. Other fine college players like William Buford of Ohio State, Kevin Jones of West Virginia and Drew Gordon of New Mexico will try to hook on as free agents.
It will take time to see if these picks will pan out. This was a deep draft, and time will tell. Over the next few years, we will get a true evaluation of how well teams did on Thursday night.
College Basketball analyst
Dick Vitale, college basketball's top analyst and ambassador, joined ESPN during the 1979-80 season. His thorough knowledge of the game is brought forth in an enthusiastic, passionate style. Vitale also contributes columns to ESPN.com.
SPONSORED HEADLINES
ESPN TOP HEADLINES
MOST SENT STORIES ON ESPN.COM