Commentary
ESPN Films: 'The Announcement'
Updated:
March 9, 2012, 5:03 PM ET
By
Staff
| ESPN.com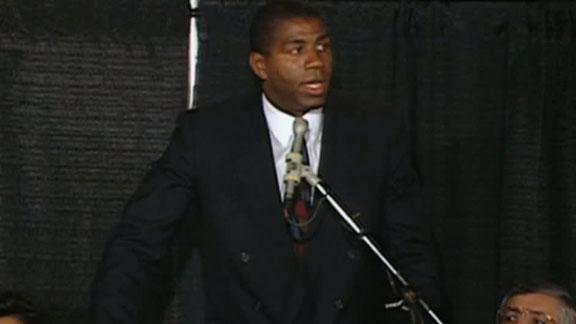 The Announcement
FILM SUMMARY

What if I told you a movie could change the way you look at sports? From the producers of 30 for 30, ESPN Films presents a new series. ESPN Films index »

On Thursday, Nov. 7, 1991, Earvin "Magic" Johnson made people stop and watch at the Forum in Inglewood, Calif. But this time it wasn't his basketball brilliance as a perennial NBA All-Star and three-time MVP that was captivating audiences worldwide. Instead, the 32-year-old groundbreaking point guard was holding a press conference to make the stunning announcement that he was HIV-positive and would be retiring from basketball immediately. But the shock of this declaration went deeper. Having the AIDS virus in 1991 was widely seen as a death sentence, and the commonly held belief was that we would be watching a beloved sports hero die excruciatingly and swiftly in front of our eyes. Yet Magic had a different narrative in mind. He defied the odds, not just surviving, but truly living and prospering. From his MVP performance in the 1992 NBA All-Star Game, his participation on the original Olympic "Dream Team" later that year and an NBA comeback in 1996, to his astounding success as a businessman, philanthropist and ambassador in the fight against AIDS, Magic has lived up to the promise of his nickname.
In "The Announcement," Nelson George and NBA Entertainment get to the core of this incredible personal journey and explore how he continues to thrive two decades later.
MEET THE DIRECTOR
[+] Enlarge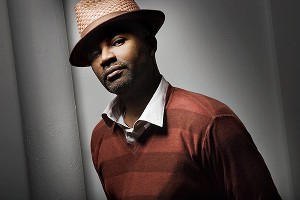 Jelena Nelson George teamed up with NBA Entertainment to document Magic's incredible story.
Nelson George is a filmmaker, author and historian who specializes in stories highlighting the African-American experience. His current novel, "The Plot Against Hip Hop," was nominated for an NAACP Image Award. His nonfiction books include the award-winning music histories "The Death of Rhythm & Blues" and "Hip Hop America," as well as the memoir "City Kid." George directed and co-wrote the HBO film "Life Support," for which Queen Latifah won a Golden Globe. Previous screenplays were for "CB4," which starred Chris Rock, and "Strictly Business," with Halle Berry in the lead. He has served as executive producer for VH1's "Hip Hop Honors," BET's "American Gangster, VH1 Soul's "Soul Cities." He also produced the Sundance Film Festival jury prizewinner "Good Hair," which was hosted by Chris Rock. "Brooklyn Boheme," a film he hosts, wrote and co-directed, debuts on Showtime in February. He can be contacted at www.nelsondgeorge.net.
MEET THE CO-DIRECTOR
NBA Entertainment (NBAE) is one of the largest suppliers of sports television and digital programming in the world, managing television, film, photos, PSAs, promotional campaigns and marketing partnerships, as well as producing events domestically and internationally for the NBA, WNBA and NBA Development League.
NBAE was founded in 1982 as the definitive visual archive of the NBA's history, and its growth can be attributed to a simple philosophy: tell compelling stories about the game of pro basketball and the people it touches. That storytelling mission has been carried out through a variety of short and long-form programming, including acclaimed documentaries. "Once Brothers," produced as part of the Peabody Award-winning ESPN Films "30 for 30" series, depicts the story of Vlade Divac and the late Drazen Petrovic, former Yugoslavian national teammates who saw politics destroy their friendship; the Emmy Award-winning documentary "Whatever Happened to Micheal Ray" covers the dramatic rise, fall and resurrection of the former Knicks and Nets star. Emmy-nominated titles include "Road to Redemption," following the quest of the 2008 U.S. men's national team to reclaim Olympic gold; and "Manute Bol: Basketball Warrior," about one man's unique basketball journey from Sudan to the NBA.
Unprecedented access to the game and its players also provides NBAE unique contemporary storytelling opportunities, including such titles as "Kevin Garnett: KG"; "Undeniable: The Rise of Dwyane Wade"; and the multi-episode all-access series, "The Association."
NBAE has enjoyed a successful history of working in the film and entertainment industry, enlisting a roster of renowned artists as narrators for its programs and documentaries: Academy Award winners Denzel Washington and Forest Whitaker; Academy Award nominees Samuel L. Jackson, Andy Garcia, Terrence Howard and Djimon Hounsou; and Grammy Award winners Justin Timberlake and Chris Rock.

"The Announcement," airs March 11 at 9 p.m. ET on ESPN.
Like everyone else, I was shocked and saddened on Nov. 7, 1991, when I got the news Earvin "Magic" Johnson was HIV-positive. At the time, I was a freelance writer for the Village Voice and quickly started working on a piece about the significance of Magic's announcement. I was also a Knicks' season-ticket holder and was at Madison Square Garden that night when coach Pat Riley led his New York squad and the visiting Orlando Magic in prayer. Riley's talk, and the shock of the day, was so powerful that years later I could not tell you the outcome of the game. (It turns out the Knicks blew out the Magic, but I had no memory of it.)
Based on what the public knew, Magic, like thousands of other unfortunate Americans, was gonna die. This would have been my most enduring memory of HIV if fate hadn't intervened. Two years after Magic's announcement, my sister Andrea made her own: she too was HIV-positive. Just as America expected to watch Magic die, so my family anticipated this daughter, sister, mother wasting away. Yet here we are, two decades later and Magic, my sister and so many others, are alive and thriving. So the journey of HIV, from death sentence and public menace, from subject of experimental drugs cocktails to manageable disease, was not just a medical story to me; it was a tangible story of overcoming. It also made the irony of Magic's becoming the public face of HIV even deeper.
When Magic first became infected, AIDS was viewed as "the gay disease," which was why his diagnosis was profoundly disturbing. Twenty-plus years later, AIDS is killing minority women and young gays in alarming numbers. Magic, a father, husband and national hero, has never looked like the typical "victim," which has made him easily acceptable to mainstream America but, to some degree, misrepresented what the virus looks like. I know my sister, who has worked as an HIV activist for more than 10 years, has both resented and admired Magic, sometimes unsure if he was the right image to represent her and yet very happy his voice was so loud on her behalf. All of which is why I was so happy to be asked to work on this film about Magic's announcement.
This is, in fact, my second film on HIV (I did the award-winning "Life Support" for HBO in 2007, starring Queen Latifah). For me, "The Announcement" is not just a look back at a fraught, unforgettable moment in U.S. history, but a vehicle for re-introducing the subject of HIV/AIDS to an audience that may not know that Americans are still getting infected and, yes, still dying from this big disease with a little name.
Magic works hard at business and health. He is not alone. Thousands of ordinary people, people like my sister, are working every day to maintain themselves. "The Announcement" is a testament to all of them.
---
FILM SCHEDULE
SUNDAY, MAR. 11

•The Announcement
-- ESPN: 9 p.m.

SUNDAY, MAR. 11

•The Announcement
-- ESPN2: 11 p.m.

THURSDAY, MAR. 15

•The Announcement
-- ESPN2: 8 p.m.

SATURDAY, MAR. 17

•The Announcement
-- ESPN2: 8:30 a.m.

SUNDAY, MAR. 18

•The Announcement
-- ESPN2:1:30 a.m.

SUNDAY, MAR. 18

•The Announcement
-- ESPN: 4:30 p.m.

SATURDAY, MAR. 24

•The Announcement
-- ESPN2: 3 p.m.

SATURDAY, MAR. 31

•The Announcement
-- ESPN2:11:30 pm.
MOST SENT STORIES ON ESPN.COM