Tuesday, July 26 2016
Fear Factor A Reality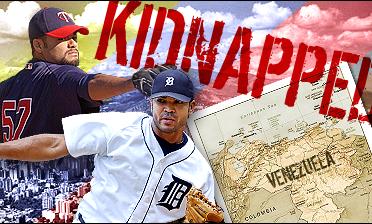 Fifty-six current major leaguers hail from Venezuela. Unknown is the number who fear for their families' safety back home.


Twins pitcher Johan Santana has become a national hero in Venezuela, which he fears will make his
family a target for kidnappers
. In an empoverished country rife with violent crime, police are still searching for Tigers pitcher
Ugueth Urbina's mother
, who was abducted earlier this month.
•
A player's worry
|
Heading north for the winter
En Español para ESPN Deportes:
•
Reina el miedo
|
Pesadilla de Urbina
|
Un golpe duro
•
José Hernández informó desde Venezuela
Great Expectations
Roberto Clemente is the measure of greatness for Latin players on and off the field. He was the first Latino to 3,000 hits, but his greatest accomplishment was helping those in need.
• Wulf: ¡Que viva! | Caban: Catching up with history
• Clemente: His father's son | Snapshots of a legend


More from ESPN.com

Living small


Clay master Guillermo Coria is a national hero in Argentina. And that makes him very nervous.

Mortensen: Ultimate tough guy


His gritty Week 1 performance was more proof that Jeff Garcia is the toughest player in football.

Rogers: Boo who?
Sammy Sosa's struggling in the thick of a playoff race and Cubs' fans aren't cutting him any slack.

Gammons: No more 'NomarGate'
It's time to turn the page on the Nomar Garciaparra-Red Sox divorce, which is becoming more absurd by the day.

Crasnick: Tejada not looking back


The A's didn't even make him an offer but now are set to re-sign Eric Chavez. So why is Miguel Tejada smiling?

Rogers: Inferiority complex?
Nothing fires up Ozzie Guillen and White Sox fans more than beating Chicago's darlings -- the Cubs.

Twists of fate
A national champion, a world champion and a World Cup champ, Mark Ruiz retires without an Olympic medal.
End text -------------------------
MaxBoxing: Not just a pretty face
When Oscar De La Hoya steps in the ring, there's substance and skill to match his good looks.

Next light on Broadway
He's good-looking, intelligent and charismatic. And if he can continue to stop pucks, Al Montoya may be the star the NHL needs.

Rogers: Heel to hero?
Nomar Garciaparra's exodus to Chicago is Red Sox Nation's agony and Wrigleyville's ecstasy.

Ratto: What, no Don King?
The squabble between competing boxing reality shows has spilled out of the ring and into the legal arena.

Foreign concept
A-Rod's debut as a Yankee didn't quite match the hype that surrounded his offseason exodus from Texas.

10 Burning Questions with Tony Gonzalez
Tony Gonzalez knows all about touchdowns. However, does he know anything about acting? Page 3 finds out.

Schwarz: MLB pushing inner-city game
With fewer inner-city children playing baseball, MLB has a plan in place to get more participation in the sport.

Crossing Pattern
Tony Gonzalez went to Mexico to learn Spanish. He picked up a lot more than the language.

Caple: Captain A-Rod?
Even though A-Rod's a Yankee, Page 2's Jim Caple thinks he could still serve as captain in Texas.

Great expectations
Roberto Clemente remains the measure of greatness for Latin players on, off the field.

Clemente: Forever young
He was proud to be the first Latino to have 3,000 hits, but his biggest accomplishment was to be able to help people in need.

Cabán: Playing catch with Clemente
El Gran Clemente's heart was as big as his legend.

What was Pedro Martinez thinking?
Page 2 tries to make sense of all the bizarre things happening in the sports world.

Rovell: City of Angels?
Angels owner Arte Moreno won't play second fiddle to the Dodgers and plans on winning over L.A. one fan at a time.