&nbsp
Elevate the Legacy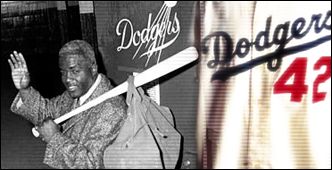 Jackie Robinson is gone, but his legacy should live forever.
Seven years ago, Major League Baseball honored
Jackie Robinson
by retiring his number. Soon it, and perhaps his memory, will become a forgotten symbol. ESPN.com proposes that baseball
keep alive Jackie's legacy with an award
: One player. Each season. One No. 42.
ESPNMotion: The Disciples of Jackie Robinson
Steele: Role model | Wiley: What would Jackie do?

Dark cloud over black colleges

Up against the money of big-time programs, black colleges try to do more with less. It got to be too much for Doug Williams, who grew frustrated as Grambling State's coach.
• Drehs: The musical rainbow | Wiley: Payback is a bitch