Sunday, July 24 2016
Righteous indignation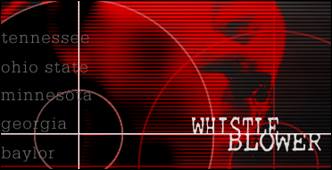 Reporting a dirty program can lead to trouble for the messenger.
Keeping college sports on straight, narrow
Some of college sports' most notable scandals came to light because of the whistleblowers conviction to right wrongs they discovered. But in the wake of their decision to speak up, they often
endure a backlash
from both their college employers and the college's fans.
Ohio State: Seeking shelter | Minnesota: Stressed
Tennessee: Moving on | Georgia: Finally, a reward
A coach's worst fear: Girlfriends turned informants

The sexual de-evolution in sports
Despite recent achievements of female athletes, the inbalance of sex and sports leans indelicately toward the exploitive. For every Annika Sorenstam or Katie Hinda who takes another giant stride in the women's athletic cause, there is a Vijay Singh or Gary Barnett to stand in the way of a level playing in sports.




More from ESPN.com
Writers' Bloc: Edge to the women
Eric Adelson argues why the women's NCAA Tournament is better than the men's.
Voepel: Isn't it ironic?
With the biggest women's event of the year this week, it's ironic all the attention will go to Martha Burk.
Wiley: Who is the real master?
At the end of the day Hootie Johnson and friends will realize that the they are masters by title, not by authority writes Page 2's Ralph Wiley.
Wiley: The Quiet War of Toni Smith
Toni Smith is a 21-year-old sociology major. And, writes, Ralph Wiley, an athlete who gives us the conscience we so often lack.
Drehs: The spirited athlete
Terrell Owens and Allen Iverson can't get a crowd fired up like those scantily clad athletes roaming the sidelines.
Pressman: What men really want
Guys say they want a girl that can talk the talk about sports. Yeah, right!
Buckheit: Cheer factor
Are cheerleaders athletes? Page 2's Mary Buckheit didn't believe it until she saw for herself.
Jones says 'so far, so good'
The LPGA's Rosie Jones acknowledged she's a lesbian -- and says she's ready for the scrutiny that comes with it.
Ratto: It's all her fault
Vijay Singh didn't take the easy way out when he blamed his wife for pulling out of the Colonial. Or did he?
Kreidler: No (wo)man's land
Annika Sorenstam isn't trying to prove herself to anyone but to herself by playing the Colonial.
Ratto: Tracking down the Tonya Tapper
One of sports' greatest historical treasures, the device that was whacked across Nancy Kerrigan's knee, may be lost forever.
Ratto: Drop the gloves
Enough of the public posturing. Hootie and Martha need to settle this the old-fashioned way.
Politically incorrect
Burning Tree Country Club is where our nation's Fore! fathers come to play golf without the bother of women.
Ratto: Giving a rebel a cause
Who better to help fight for Title IX than Laila Ali, who wouldn't have anyone to fight without it.
Adelson: Can 'Dee' save the WNBA?
Memo to the WNBA: You're getting the best marketing tool you could hope for in Diana Taurasi. Use her well.
More Features