Top search of the month: TitleTown

The search for TitleTown USA began three months ago and ended with Valdosta, Ga. claiming sports' ultimate territorial bragging rights. After maintaining its position as the No. 21 search in both April and May, "TitleTown" ascended in June to No. 3. All throughout July, as fans were able to cast their finalist votes for the winner, "TitleTown" remained the No. 1 search by a mile totaling more than twice the amount of searches for the No. 2 search "ESPYS."
Quick hits
Surprise search of the month: Carson Palmer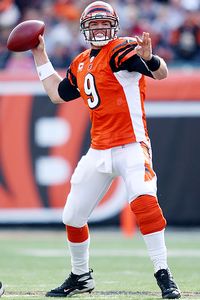 The outspoken All-Pro QB was quite a popular search in July after he not only answered questions about the Bengals' turbulent organization and Chad Johnson's distracting offseason remarks in an Ed Werder interview, but also voluntarily expressed his displeasure with Ohio State University and its fans on a Los Angeles sports radio show (no word yet on whether Palmer has submitted a homemade video to College Football Live's Sound Off). Palmer said he was only playing up to the L.A. audience with his comments. It's impossible to truly know whether Palmer was serious or not, but there's no doubt about how much his search numbers jumped. After only 130 searches in June, Palmer received more than 3,400 in July for an increase of more than 2,500 percent and the "Surprise Search" honor.
The complete top 25
Maalek Marshall is ESPN.com's search editor.
Note: The results listed are the summation of actual search results that were manually typed in by site users of ESPN.com in said month of 2008. All prelinked searches (including columnist archive links) were excluded from this summation.