Our weekly NFL Power Rankings were tops in search during a month that was chock full of upsets, injuries and surprise benchings in the NFL. The top two spots remained occupied by the Giants and Titans throughout all of October -- the only change coming when both teams traded spots after the Giants' loss to the Browns. However, spots Nos. 3-32 have been about as volatile as the Dow Jones Industrial in recent weeks, prompting a massive number of searches and lively user comments, which counted more than 9,000 at time of this writing.
Quick Hits
Surprise Search of the Month: Shonn Greene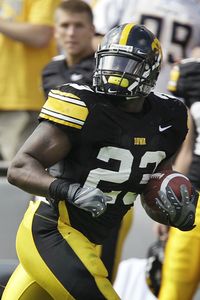 The Heisman race has been competitive this season. Iowa running back Shonn Greene was already having a great season, but he propelled himself into the running for the Heisman -- not to mention college football fans' collective consciousness -- after an amazing 217-yard, four-TD performance to help Iowa defeat Wisconsin. Greene easily became October's surprise search with more than 1,900 searches after receiving none throughout September.
The Complete Top 25
Check out the new ESPN Search Index for all the latest sports buzz in search, including the top daily searches, surprises and movers.
Maalek Marshall is ESPN.com's search editor.
Note: The results listed are the summation of actual search results that were manually typed in by site users of ESPN.com in said month of 2008. All prelinked searches (including columnist archive links) were excluded from this summation.