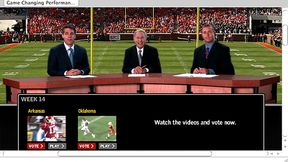 The Pontiac Game Changing Performance is a weekly favorite during the college football season as it not only allows users to vote on the week's most exciting and pivotal play, but also gives them a chance to win scholarship money. With November marking the final full month of the college football regular season, searches for "Pontiac" outpaced all others as users got in their votes for the last weeks before the BCS frenzy begins.
Quick Hits
Surprise Search of the Month: Myron Rolle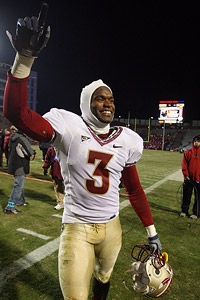 Unranked FSU's surprising defeat of then-25th-ranked Maryland was topped off by news that junior safety Myron Rolle had earned a Rhodes scholarship shortly before joining the 'Noles for the second half of their game. Clearly, Rolle's emphasis on the "student" side of being a student-athlete resonated with users as he received more than 2,000 searches in November after no searches the previous month to become the Surprise Search.
The Complete Top 25
Check out the new ESPN Search Index for all the latest sports buzz in search, including the top daily searches, surprises and movers.
Maalek Marshall is ESPN.com's search editor.
Note: The results listed are the summation of actual search results that were manually typed in by site users of ESPN.com in said month of 2008. All prelinked searches (including columnist archive links) were excluded from this summation.