Marvin Gaye and Tammi Terrell once sang "Ain't Nothing Like the Real Thing," but when it comes to the NFL draft, ESPN.com users enjoy checking out our experts' mock drafts until "the real thing" comes along in late April. For fans of the 30 teams that didn't make the Super Bowl, this time of year undoubtedly belongs to NFL analyst Mel Kiper Jr. and Scouts Inc.'s Todd McShay as they offer up their most informed predictions and help fans look forward to the promise of next season.
Quick Hits
Surprise Search of the Month: 100-0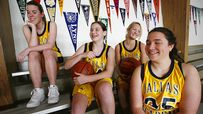 The unbelievable score of a girls high school basketball game between Covenant and Dallas Academy prompted much debate among sports pundits in regard to sportsmanship, coaching and mercy rules. The score was also last month's surprise search as users sought more information about Covenant's extremely lopsided victory over Dallas Academy. Despite the fact that the game took place Jan. 13 and most reports about it surfaced around Jan. 22 after Covenant sought to forfeit the game, the term was easily the month's surprise after garnering more than 3,800 searches (and more than 2,400 user comments) in only nine days' time.
The Complete Top 25
Check out the new ESPN Search Index for all the latest sports buzz in search, including the top daily searches, surprises and movers.
Maalek Marshall is ESPN.com's search editor.
Note: The results listed are the summation of actual search results that were manually typed in by site users of ESPN.com in said month of 2009. All prelinked searches (including columnist archive links) were excluded from this summation.