To quote Yogi Berra's famous line, "It's like déjà vu all over again" for the 2009 NFL mock draft, which makes its second appearance in '09 as the No. 1 search of the month. (See January's top searches.) It was bound to return as the top search in April as NFL fans' anticipation mounted with each week leading up to NFL draft weekend. Of course, reliability is what drove those searches: The constantly updated predictions of ESPN's resident NFL draft experts, Mel Kiper and Todd McShay, were eerily accurate. (Even they, however, can't foresee changes due to draft-day trades … or Al Davis.)
Quick Hits
Surprise Search of the Month: Quan Cosby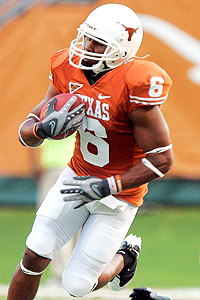 The former Texas Longhorns wide receiver had a highly productive final season as he doubled his TD receptions from the previous year and completely outshined Ohio State's receiving corps by himself with 171 receiving yards and 2 TDs in the Fiesta Bowl, but he still went undrafted. Aside from all the searches he received from fans interested in where he might get picked, Cosby also received many searches because he was accompanied at the draft by legendary comedian Bill Cosby, who, of course, kept the mood light. Quan Cosby, who ended up signing as a free agent with the Bengals shortly after the draft, received more than 9,400 searches throughout April after only 127 searches in March for an increase of more than 7,300 percent and "Surprise Search of the Month" honors.
The Complete Top 25
Check out the ESPN Search Index for the latest buzz in search, including the top daily searches, surprises and movers.
Maalek Marshall is ESPN.com's search editor.
Note: The results listed are the summation of actual search results that were manually typed in by site users of ESPN.com in said month of 2009. All prelinked searches (including columnist archive links) were excluded from this summation.