The Little League World Series is an annual favorite among sports fans and this year's LLWS was no exception as it accumulated more than 200,000 searches throughout August (more than three times the next-highest search). The eventual champs from Chula Vista, Calif., went on a tear throughout the tournament led by the strong bats of Kiko Garcia, Andy Rios and especially Luke Ramirez, who, at 6-2, 200 pounds, channeled his inner Babe Ruth and had several dominating performances both hitting and pitching.
Quick Hits
Surprise Search of the Month: Caster Semenya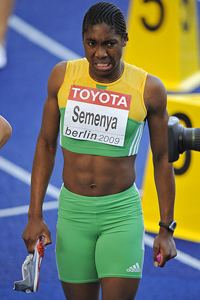 Sure, Usain Bolt broke his own 200-meter world record at Berlin's IAAF World Championships in August, but he wasn't the only runner making headlines at the event. Eighteen-year-old Caster Semenya of South Africa garnered plenty of interest once the world track and field federation requested a gender test for her in early August after she improved her personal bests in the 800-meter and 1,500-meter races by huge margins. Even though it would be several weeks before the results of the test were revealed (the results were still unknown at the time this story was published), Semenya did little to ease concerns the federation may have had when she not only won the 800-meter race but beat the defending champion by 2.45 seconds at the world championships. After absolutely no searches in July, Semenya was clearly August's surprise search with more than 3,100 searches.
The Complete Top 25
Check out the ESPN Search Index for the latest buzz in search, including the top daily searches, surprises and movers.
Maalek Marshall is ESPN.com's search editor.
Note: The results listed are the summation of actual search results that were manually typed in by site users of ESPN.com in said month of 2009. All prelinked searches (including columnist archive links) were excluded from this summation.